Christy Peters is a friend of Piper and Phoebe Halliwell, Paige Matthews and Leo Wyatt. She is also the wife of Jeevan Anand. [1]
Quick Facts
Edit
Full Name: Christy Peters
Hair Color: Blonde
Eye Color: Blue
Skin Color: White
Ethnicity: Caucasian American
Affiliation: The Charmed Ones - (friends), Leo Wyatt - friend, Jeevan Anand - husband
The Wedding of Christy and Jeevan
Edit
In 2004, the Charmed Ones and Leo were invited to Jeevan and his fiancée,
Christy Peters'
wedding. However,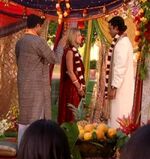 only Piper and Leo attended the wedding while Phoebe looked after Piper and Leo's youngest son,
Christopher
and Paige took care of the couple's oldest son,
Wyatt Matthew
at
Halliwell Manor
.
As a Hindi tradition, the paadri (priest) at the wedding summoned Shakti and Shiva so that the couple could invoke their spirits and live a life of wedded bliss. But when the Hindi God and Goddess were summoned, the spirits travelled into Piper and Leo's bodies, causing them to take on the characteristics of Shakti and Shiva.
References
Edit
Ad blocker interference detected!
Wikia is a free-to-use site that makes money from advertising. We have a modified experience for viewers using ad blockers

Wikia is not accessible if you've made further modifications. Remove the custom ad blocker rule(s) and the page will load as expected.