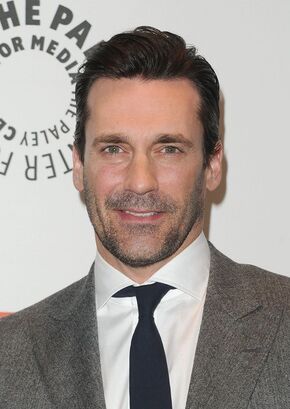 American actor and director Johnathan Daniel Hamm, credited solely as Jon Hamm starred in the Charmed Season 7 episode Styx Feet Under as the father of Kyle Brody, a character known as Jack Brody. Jon currently stars on the hit AMC series Mad Men as Don Draper, a role he is most recognized for.
Quick Facts
Edit
Full Name: Johnathan Daniel Hamm
Birthdate: March 10, 1971
Birthplace: St. Louis, Missouri
Hair Color: Brown
Eye Color: Blue
Skin Color: White
Charmed Character: Jack Brody
Television
Edit
Mad Men
The Increasingly Poor Decision of Todd Margaret
Saturday Night Live
The Simpsons
Childrens Hospital
30 Rock
The Sarah Silverman Program
Related
Numb3rs
What About Brian
The Unit
Charmed
Point Pleasant
CSI: Miami
Gilmore Girls
The Division
Early Bird Special
The Hughleys
The Trouble With Normal
Providence
Feature Films
Edit
The Congress
Friends With Kids
Bridesmaids
Sucker Punch
Howl
The Team
The A-Team
Shrek Ever After
Stolen
A Single Man
The Day the Earth Stood Still
The Ten
Ira and Abby
We Were Soldiers
Kissing Jessica Stein
Space Cowboys
Ad blocker interference detected!
Wikia is a free-to-use site that makes money from advertising. We have a modified experience for viewers using ad blockers

Wikia is not accessible if you've made further modifications. Remove the custom ad blocker rule(s) and the page will load as expected.