Leo's Valentine's Day Card to Piper
General Information
Presenter
Leo Wyatt]
Receiver
Piper Halliwell
Reason

Leo wanted to explain how he felt for Piper
On February 14th, 2000 Leo Wyatt wrote Piper Halliwell a Valentine's Day card. He had put it in her purse, where he was sure that Piper would find it.
After saving Piper from Oroya Fever and breaking the rules set forth by the Elders stating he could not heal her because she was not attacked by demons his wings were clipped, and the Elders made him human. Piper then hired Leo at her club because she felt it was the least she could do for him.
Although Piper felt something for Leo in her heart, she was still going out with Dan Gordon, in the card Leo stated he was not going to give up on Piper because it is the two of them that belong together. After reading the card, Piper imagined going up to Leo and kissing him passionately. She then looks at Leo and they smile at each other.
In 2001, Piper found the card at P3 after Leo was taken away from her by the Elders after they attempted to marry using a Handfasting ritual. She then remembered everything they shared and demanded that the Elders return Leo to her.
Leo's Message
Edit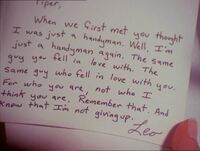 Piper,
When we first met you thought
I was just a handyman. Well, I'm
just a handyman again. The same
guy you fell in love with. The
same guy who fell in love with you.
For who you are, not who I
think you are. Remember that. And
know that I'm not giving up.

Leo.
On the front of the card the preprinted text "For you" was written, and on the inside "Always.".
Ad blocker interference detected!
Wikia is a free-to-use site that makes money from advertising. We have a modified experience for viewers using ad blockers

Wikia is not accessible if you've made further modifications. Remove the custom ad blocker rule(s) and the page will load as expected.