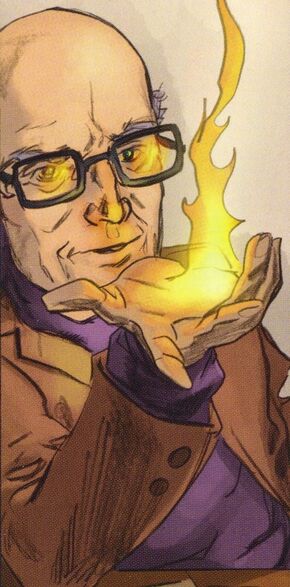 Owner and Head Master of a school for magical children, aptly known as "Knox Academy", Montgomery Knox is an older man that once tried to recruit Tyler Michaels to come to the school.
Quick Facts
Edit
Full Name: Montgomery Knox
Gender: Male
Species: Unspecified
Birthdate: Unknown
Birthplace: Unknown
Hair Color: Grey
Eye Color: Green
Skin Color: White
Notable Powers: Fire
Leaving a Card at Paige Matthews' Home
Edit
In 2009, Montgomery traveled to the home of Paige Matthews and Henry Mitchell and left a business card on the door of the home, presumably thinking that they would like to send one of their children Knox Academy.
Meeting the Charmed Ones
Edit
Paige and her sisters later orbed to the school even though Phoebe thought it was a trap. Montgomery was not at all shocked to see them appear but he did make a comment on their method of arrival.
Montgomery told the sisters that visitors usually use front doors, but drop-ins are always welcome. This somewhat threw the sisters off, but Piper told him they don't usually announce themselves when crashing a demon lair. Montgomery quickly explained that while the school wasn't under the Elders control, Knox Academy wasn't demonic. He considers the school as a neutral alternative to Magic School ad he told them that a school should never be taken over by demons, referring to how Magic School was a few years prior.
Piper told Montgomery that it wasn't their fault, to which he agreed and told the sisters that the truth of the matter was, many of his students are born with gifts they do not want and that he teaches them to embrace the gifts. He continued to tell them that that the school is a place where people can learn to live with or without their powers.
Ad blocker interference detected!
Wikia is a free-to-use site that makes money from advertising. We have a modified experience for viewers using ad blockers

Wikia is not accessible if you've made further modifications. Remove the custom ad blocker rule(s) and the page will load as expected.