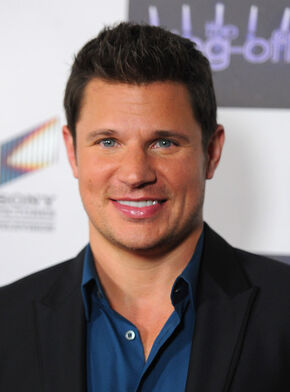 American actor and singer Nick Lachey portrayed the role of Leslie St. Claire during Season 7 of Charmed.
Quick Facts
Edit
Full Name:
Gender: Male
Birthdate: November 9, 1973
Birthplace: Harlan, Kentucky, United States of America
Hair Color: Brown
Eye Color: Blue
Charmed Role: Leslie St. Claire
Television and Films
Edit
Nick & Vanessa's Dream Wedding
Hawaii Five-O
The Sing Off
Taking the Stage
One Tree Hill
Clash of the Choirs
Rise: Blood Hunter
Twins
He Said, She Said
Bewitches
The Hard Easy
Hope & Faith
Charmed
I'm With Her
American Dreams
Christmas in Rockefeller Center
Newlyweds: Nick and Jessica
98°
98° and Rising
This Christmas
Revelation
The Collection
Leslie St. Claire
Edit
Ad blocker interference detected!
Wikia is a free-to-use site that makes money from advertising. We have a modified experience for viewers using ad blockers

Wikia is not accessible if you've made further modifications. Remove the custom ad blocker rule(s) and the page will load as expected.