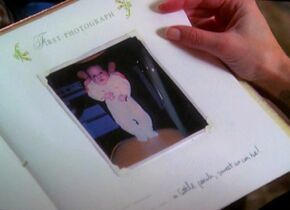 Packed away in a brown box by Penny Halliwell, the Grandmother of Prue, Piper and Phoebe Halliwell, Paige Matthews and mother of Patty Halliwell, Leo Wyatt found Piper's Baby Book in 2002. It was a white photo album that consisted of photographs of Piper on the center of each page with a description of the photo from Piper's birth only to her fifth birthday. According to Leo, there was no one left to finish the book after Patty's death at the hands of the Water Demon at Lake Skylark in February 1975.
Soon after realizing Patty was unable to finish the baby book after she died, Piper became hesitant to go after demons and very protective of the baby she was carrying. Piper was soon overcome with panic and anxiety that when the Sea Hag attacked at Halliwell Manor, she was unable to fend the Hag off resulting in the capture of a Mermaid, Mylie. Desperate to relinquish her fear, panic and anxiety, Piper wrote a Fearless Spell and cast it upon herself, rendering her extremely confident in herself and to a certain extent, extremely cocky when it came to demons. After casting the spell, she was captured by Necron who was working with the Sea Hag and she was chained to a metal fence-like object and electrocuted by eels in the Hag's lair. Upon Necron's vanquish, Piper was pulled down below the water, trapped until the spirit of her mother set her free and told her that she has nothing to fear. When Piper returned to the Manor, she looked through the baby book again and took a photograph of herself with Patty out of it and placed it in a new album named Our Little Girl. Patty then magically wrote Grandma and Mommy. Piper smiled and closed the book.
References
Edit
Ad blocker interference detected!
Wikia is a free-to-use site that makes money from advertising. We have a modified experience for viewers using ad blockers

Wikia is not accessible if you've made further modifications. Remove the custom ad blocker rule(s) and the page will load as expected.