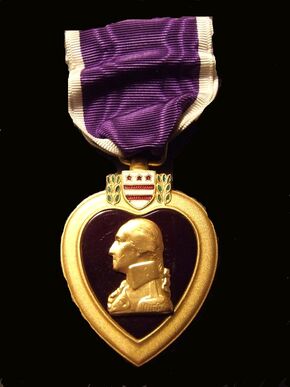 A decoration for the United States military, the Purple Heart is awarded in the name of the American President to those who have been wounded or killed while serving on or after April 5, 1917 with the U.S. military. The National Purple Heart Hall of Honor is located in New Windsor, New York. With its forerunner, the Badge of Military Merit, which took the form of a heart made of purple cloth, the Purple Heart is the oldest award that is still given to members of the U.S. military, the only earlier award being the obsolete Fidelity Medallion.
Leo Wyatt Receives Purple Heart
Edit
For his work and bravery during World War II, Leo Wyatt received the Purple Heart after his death. Curious to learn about Leo's past, Piper Halliwell went to Leo's widow, Lillian, who showed her that Leo earned a Purple Heart for all that he did during the War.
Ad blocker interference detected!
Wikia is a free-to-use site that makes money from advertising. We have a modified experience for viewers using ad blockers

Wikia is not accessible if you've made further modifications. Remove the custom ad blocker rule(s) and the page will load as expected.